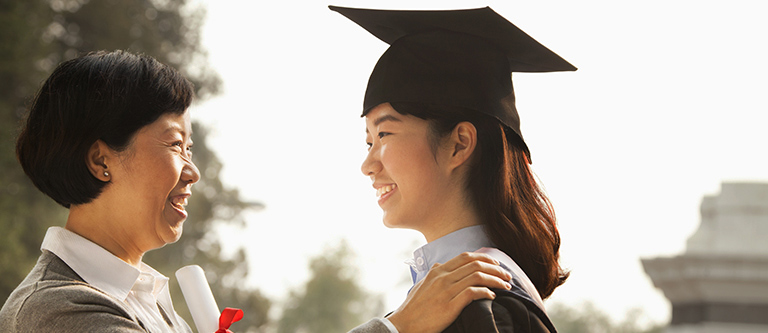 A Foreign World
"KEY did not only help prepare my son for private school admissions, but the amazing Early Childhood Education team coached him to be able to express his thoughts better. Anita was very kind and encouraged him along each step of the way. She helped him grow out of his shell. KEY transformed him from a shy, timid boy to a bold and confident student. The interview training taught us as a family how to ask meaningful questions and respond to answers confidently. We are so impressed and grateful for their work that we'll be bringing our eldest son for university admissions counselling!"

- O. Z.
KEY helps an Asian family open up their gate to western education
Meet the Student
New immigrants to Canada, O.Z. and his family came to Canada to pursue the best possible education opportunities.
Family Challenge
O.Z's parents speak limited English and have no experience navigating the Canadian education system. Facing language and cultural barriers, they turned to KEY for help.
Tools For Success
KEY's team sat down with the family to map out their needs and goals for O.Z.'s education.
Admissions guidance experts coached the parents, providing solutions to frustrating and complex aspects of the admissions process. One major success was the interview process. O.Z.'s parents learned how to tell their story and share their philosophy to schools in a way that allowed their son to succeed. The team also helped the parents identify schools that matched O.Z.'s strengths, opening up the gate to Western education.
O.Z. enrolled in ECE (Early Childhood Education) and overcame his shyness to develop a vibrant confidence. He mastered tools for sharing his ideas and speaking in front of the class, talking with strangers, and being open to new opportunities.
Results
O.Z. gained admission to Vancouver's elite West Point Grey Academy for grade one - a big win as WPGA offered only twelve spots that year. His new ability to demonstrate potential gained him the spot. O.Z. found his own key to success, and now strives for an even brighter future at WPGA.
---
Second Chance
My daughter wasn't able to get into our top choice private school last year so I decided to consult KEY for some advice. KEY helped us with the re-application and gave us guidance on what approach to use while having conversations with the school which ended up with successful results! Thank you KEY!

- J. T.
KEY helps an Asian family re-ignite their hope for Canadian private schools
Meet the Student
J.T. grew up in an Asian family that values education. Her mom saw great opportunities in Canadian private schools, setting out to send her daughter to a reputable one.
Family Challenge
A limited understanding of the Canadian education system kept the family from highlighting J.T.'s successes, ultimately resulting in needing to re-apply for admission to private schools. To ensure success in the second round of applications, J.T.'s mom turned to the experts at KEY for advice.
Tools For Success
The comprehensive consultation with our admissions guidance experts revealed that an unfamiliarity with Western culture kept the family from understanding the nuances of the private school system. The KEY team also learned that J.T. needed to strengthen her English language skills in order to succeed in the hyper-competitive private school environment.
KEY developed a strategy to provide the family with insight into the evolving landscape of admissions and built a language-focused learning program for J.T. Coaches guided the family in qualifications that schools look for and each step of the admissions process. The team identified schools matching J.T.'s strengths, alleviating the pressure of decisions. Interview preparation allowed her mom to channel a strong personality into the appropriate educational language with which to best support her daughter. J.T. started with ECE (Early Childhood Education) courses and the Unlock Your Soft Skills program. She built her foundation and English language skills, becoming confident talking with others and sharing ideas.
Results
She was admitted to Vancouver's premiere York House School. J.T's persistence and dedication let the best of her shine through to make the most of her second chance. She is now enjoying her school life at York House, actively setting new goals for the future!
---
Finding the "Spark"
I reached out to KEY to help my son prepare for university admissions by starting his high school education at a top private school. KEY's work exceeded my expectations. The staff were all very supportive and I could tell they really cared about their students. My son was able to be admitted into our top private school choice, but they also pushed him to question his interests and passions. I liked how they made him think deeper in the interview coaching sessions.

- B. Z.
KEY helps a hard-working student discover his uniqueness and keys to success.
Meet the Student
B.Z. is a strong student from a family whose priority is academic success. His parents immigrated to Canada many years ago and sought to ensure their son's future through his admission to a prestigious Vancouver private school.
Family Challenge
While his grades proved strong, B.Z. struggled to stand out in the competitive pool of private school applicants. His parents knew he needed to overcome this hurdle in order to gain admission.
They reached out to KEY to provide solutions.
Tools For Success
The KEY team sat down with B.Z. and his parents for a comprehensive consultation. Upon getting to know them, our admissions guidance experts found that while B.Z. is able to achieve high scores in exams he did not know how to articulate his ideas clearly - a quality highly valued by private schools. They understood the impact and developed a strategic plan to empower B.Z. to discover his "spark" and uniqueness.
Through the KEY Unlock Your Soft Skills program, B.Z. developed tools and strategies allowing him to communicate his unique outlook to schools. Moreover, he learned crucial leadership skills which play a significant role in private school admission. At home, B.Z.'s parents saw positive changes in him and developed a pride in his new-found skills.
Results
B.Z. was accepted to Vancouver's prestigious St. George's School for grade eight. KEY's guidance and support gave him the confidence to discover his own keys to success and achieve his academic goals. B.Z's high scores, coupled with his communication and leadership skills, empower him to aim for a brighter future.
---
Navigating Canadian Education
KEY has been simply amazing – they worked side by side with me and my daughter through the Early Childhood Education Assessment and parent interview coaching. My daughter is generally very shy but she became more outgoing through the group classes and benefited a lot from the experience. I am so thankful for KEY's help with their expert coaching and assistance for applications. A lot of the questions brought up during the actual parent interview were mentioned during their training sessions so I felt really confident and prepared! I referred my friend to them and would encourage other parents to work with KEY!

- E. F.
KEY helps an English-speaking family achieve their academic dream.
Meet the Student
Recent immigrants from the Middle East to Canada, E.F. and her family settled in Vancouver. With a new country to call home, her parents held high hopes of providing their children with a private education.
Family Challenge
Although E.F. and her family spoke fluent English and brought with them a strong understanding of Western culture, they struggled with the process of applying for private schools on their own. After a lack of success, they became frustrated with the complex process and range of choices. They knew they needed an expert to help them navigate the Canadian education system.
The family came to KEY to ensure success in their application journey.
Tools For Success
KEY admissions guidance experts dug in to discover the needs of the family through our extensive consultation process. From there, the team determined a course that included breaking down the admissions process for each desired school and guiding the family through every step.
Our specialists established a strategic plan. They addressed the unique circumstances to ensure the story of the family and the student came through clear and accurate while hitting the right tone for each institution.
Preparation proved essential. KEY's experienced coaches guided the parents and E.F. through the interview process, offering inside knowledge of the nuances and answers.
This comprehensive support allowed the parents to find a sense of security in E.F.'s educational path while E.F., after struggling with shyness, blossomed into a confident student able to look others in the eye and make the most of her time in the classroom.
Results
E.F. received acceptance to elite Vancouver private schools Stratford Hall and Urban Academy. Parent initiative alongside her hard work gave her the boost she needed to achieve her goals. Today, she enjoys school and building her potential for the future!